The CATsNIP Clinic is open to ANY cat caretaker in the Coulee Region; however, our focus is on helping low income, fixed income, and multiple cat caretakers.
Space at our Clinic is limited and an appointment is required. IF YOU ARE BRINGING 3 OR MORE CATS, we DO REQUIRE a 50% deposit to ensure space at that Clinic. Unfortunately, we are now requiring this because of multiple no-shows at our previous Clinics. To set up an appointment, call 608-638-6887.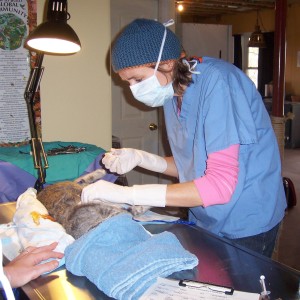 At this time, we accept checks payable to Alter-Ations, Inc. or cash — no credit cards. Fees are due when you drop off the cat.  Prices are subject to change. We reserve the right to decline surgery on any cat due to health reasons or concerns. Additional fees may apply if re-suturing or extra pain medication is necessary OR if other procedures are performed for the health of the cat.  All cats (if handleable) receive a pre-operative exam, we DO NOT do pre-operative testing.
FEE SCHEDULE (all fees include a required rabies vaccination):
Owned female cat = $80
Owned male cat = $65
OUTSIDE (barn, porch, garage) CATS = $35 but MUST be EAR-TIPPED
All cats are REQUIRED to have a rabies vaccination before leaving our Clinic. Please bring proof of rabies vaccination if your cat has already received a rabies vaccination in the recent past.
FVRCP (Distemper) vaccination = $10
Flea/lice treatment = $15
Revolution (flea/ear mite/some internal parasites) = $20
Microchipping = $25 (includes life time registration)
Ear mite treatment = $5
Nail Clipping = $5
E-collar = $5
Cardboard carrier = $5
Post-operative recheck exam – FREE if done within 1 week of the surgery.  $15 exam fee (plus any additional charges for antibiotics, resuturing, etc.) if post-operative recheck exam done after 1 week.
Once your cat or cats have been accepted for a surgery day, please read through our Clinic Policies.
The Clinic is located at 315 E. Decker St, Suite B, Viroqua, WI 54665.  The Clinic is located at the back entrance of the Ridge to Rivers Animal Clinic.  Arrive ON TIME for your appointment.  Clients arriving more than 15 minutes late may be required to return at a later day for a rescheduled appointment.  Do not park in the parking lot as it is reserved for the Ridge to Rivers clients and staff.  We park on the side streets and across the street from the front entrance.  ENTER OUR CLINIC SPACE AT THE BACK ENTRANCE.  Please do not attempt to use the front door.
It is preferred that the surgery forms, available on this website, are completed prior to surgery day.  All cats scheduled for the day are checked in between 8:00am-8:30am.  Be prepared for a hectic time as we try to do in-take in an efficient manner.  You will also need to stay for the verbal pre-operative talk from our veterinarian which covers the risks and benefits of surgery.